What kind of country is Japan for you? I was born in Japan, grew in Japan, and I'm going to work and probably die in Japan. For me, Japan is a very good country and that's why I love my home country. But I think Japan has both good and bad aspects, and we have to change some things. Today, I'd like to talk about what "Japan" means for me.
Firstly, I'd like to talk about good aspectS of Japan. Almost everywhere in Japan is very clean. When visitors from other countries arrive at the airport in Japan, most of them are surprised by how clean the toilets are. And many toilets in Japan have electronic washing machines.
In addition, it is very convenient to live in Japan. If you are thirsty, you can buy something to drink anytime and anywhere from vending machines. If you are hungry, you can buy foods you like in convenience stores even at midnight. And you can follow your schedule easily because every means of public transport comes on time. Furthermore, people keep quiet in public transport, so no one speaks on the phone in loud voices.
And Japan has a specific culture and many people all over the world love that, especially Japanese foods. I also love Japanese dishes like sushi, ramen and curry-rice.
Speaking of political things, I'm proud of Japan's international cooperation. Japan has "Japan International Cooperation Agency" and it has cooperated with many developing countries. For example, they built schools in Africa, lent money to Singapore to build a big airport, made educational plans and sent teachers to many Asian countries. As a citizen of the world, I think it is very impressive. As can be seen above, I'm proud of my own country.
But I am not only one Japanese, but also a citizen of the world. I think sometimes we have to evaluate our own country objectively. In my opinion, Japan has also bad aspects, especially Japanese tend to keep some old ways of thinking.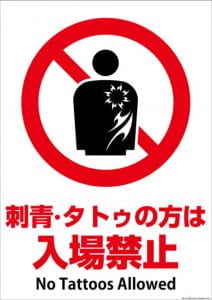 In Japan, you hardly ever see people with tattoos. Actually, many years ago in Japan, only gangs called Yakuza wore tattoos. So some people still feel uneasy when they see tattoos. If you have tattoos, you can't enter some pools or hot springs in Japan. I think now all Japanese have to throw that image away and change this habit because tattoos are common in many countries and having a tattoo is just one of many fashions. On top of that, TOKYO Olympic will be held in Japan next year, so I wish everyone from overseas could enjoy everything as they like in Japan, including our hot springs.
Another negative aspect is that the same-sex marriage is still not approved in Japan. In G7, a group of seven consisting of France, the U.S, the United Kingdom, Germany, Italy, Canada and Japan, the only country where the same-sex marriage and civil union are still not approved is Japan. Actually, I have a friend who is gay, but he has come out to his good friends only because he is scared to be thought as "not common" by many Japanese. I know it is a common thing because there are many kinds of love. But gay people cannot get married in Japan by the constitution. I think the fact is very strange and all Japanese should accept all kinds of love.
And the Japanese are polite but not friendly. In Australia and many countries, people say "Thanks" to bus drivers and staff members of supermarkets, but in Japan, they don't say anything. It is the same when you meet neighbors in front of their houses. It must be an important thing for everyone to live comfortably and built good relationships. In daily life, Japanese people tend to care about living easily by themselves but don't care about living comfortably together.
Also "Synchronization" is one of the popular trends in Japanese culture. Japanese tend to follow others and refuse people who don't follow them. Of course, young generations start to think these ideas are not good and we should change them, but many people still hang on to the old thinking.
I love my own country, and I hope people all over the world love Japan as well. We have to change and take action as soon as we can.
Kotaro Kawamoto, Intermediate Class