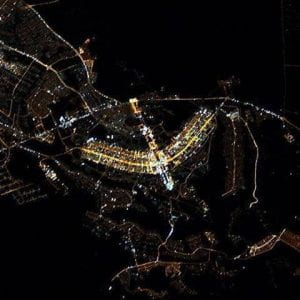 When we start talking about Brazil, what is the first thing that comes to mind? São Paulo? Rio de Janeiro? Carnival? So, guys, Brazil is much more than that. Firstly, let me tell you a little about my country: our capital is Brasília, which is especially famous for its elegant architecture; our currency is Real; we speak Portuguese, not Spanish; and Brazil is located in South America, and its coastline goes along the Atlantic Ocean. Brasília was planned by Lúcio Costa and one of the most famous architects in Brazil ever, Oscar Niemeyer. He designed Brasília shaped as an airplane. Congratulations, now you know a few things about my country.
If you want to visit Brazil and would like to get in touch with nature, I will present this superb place called Chapada dos Veadeiros National Park. The park is located in the state of Goiás. However, we don't have any airport around the park. The closest one is in Brasília and there are daily flights from all big cities to the capital.
The largest villages nearby the park are: Alto Paraíso de Goiás (230 km from Brasília), São Jorge (272 km) and Cavalcante (324 km). I recommend that you rent a car at the airport, which is the easiest and fastest away to explore the park. Although, if your budget is low, don't worry, because there is a bus to Alto Paraíso de Goiás from Brasília's bus terminal.
In every city around the park there are options of accommodation for all purposes and tastes. We have dirt cheap ones and others that you pay through the nose, so it's up to you. There is also a huge variety of restaurants and you have to try the most famous and typical dish called Matula. It is a slow cooked (really soft) beef, served with white rice, beans, deep-fried cassava, cooked pumpkin, and cassava flour. I guarantee it is absolutely scrumptious.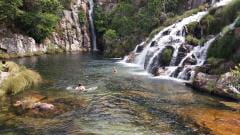 Inside or around the park you can find an immense quantity of waterfalls and rivers, which are all amazing. But the hiking is quite hard, so prepare yourself: wake up early, eat up a nice breakfast, and put sunscreen on as the sun shines there a lot. I'm sure you enjoy the picturesque park. At the end of the day, you can relax looking at a perfect sky or walk into the city and listen to some awesome Brazilian music on the street enjoying the atmosphere because it is simply amazing. To do some activities inside the park, you have to buy a ticket.
See the price list here:
http://www.icmbio.gov.br/parnachapadadosveadeiros/guia-do-visitante.html
The National Park shows us a massive quantity of exotic animals. We have around 1.500 species and they are split into 50 mammals, 830 kinds of birds, 150 amphibians, and 120 reptiles. Some of them are extinct, such as the Pampas Deer, Marsh Deer, Maned Wolves and the Jaguar.
So, that's it, folks! Thank you so much for your attention.
Raphael Nascimento, Intermediate Class