Yesterday morning, I was picked up at 7.45 AM at Cairns City Backpacker hostel because I had booked the waterfall day tour with Barefoot Tours. I asked one of my classmates, Abby, to join this tour with me. My tour guide was Gab who was a driver and tour guide at the same time.  She explained not only about the rules and what we should do during the day but also gave us information along the way to each place that we visited. Because this tour is very famous this time of the year, they separated us into 2 buses which ran together for the whole day. The first place I hopped off the bus was Heales Lookout where we could see the mountain's range panoramic view. I was there for a few minutes and took photos with my friend and then we went to another place.
The second place we visited was Lake Eacham, the freshwater lake located in the Tablelands.  It had a stunning view, clear fresh water, and a nice cool breeze, which we enjoyed with good company and had a relaxed morning coffee break. After that, I had a chance to go swimming in the lake – the first touch was cold and freezing but refreshing at the same time. I heard from Gab was this lake has freshwater crocodiles that are different from saltwater crocodiles because they stay away from people.  I hoped it was true because I didn't want to get hurt while swimming.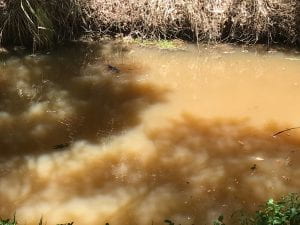 Then we moved to the third place, but on the way, my guide stopped to let us see the wild platypus at Peterson Creek located in Yungaburra. We had to walk along the small creek for a few minutes and kept an eye on the creek and tried to spot the bubbles on the creek surface that may give us a clue to see the platypus. Eventually I saw a tiny baby platypus in a creek, it showed itself in front  of us for a couple time by moving around on the creek surface and I followed it for a few minutes.
Then, I headed back to the bus to go to the Curtain Fig Tree, it was my first time to see a huge and beautiful fig trees like this. Vertical fig roots descended from the fig's trunk to form the curtain-like appearance. I walked around in a circle to look around these trees and then I left it behind to go to another place.
The next stop was Malanda Falls which is a part of the North Johnstone River, and it's where we would have lunch. The falls looked like a swimming pool and just a few second after we arrived other tourists jumped and swam energetically in the pool, while my friend and I had lunch together and chatted during the lunch time after we also went for a swim.
We moved to Millaa Millaa Falls, which is a very famous spot for tourists. It was a small waterfall but looked stunning in my opinion. The water was falling down like a curtain, and it had an area for us to swim as well.  When I was in the falls, it was freezing and refreshing. I swam there until I reached the rocks behind the falls and looked back to the picnic area.  It made me feel very good and I swam back in a few minutes because it was very cold. In the creek next to the swimming area, I saw fishes and turtles swimming as well – they looked very cute and friendly.
Eventually, we reached the last place which was Josephine Falls. I had to walk along the pathway to get into the falls, and we walked past many types of trees. My guide was waiting for me at the intersection because she was afraid I would get lost in the forest because I was the last person who walked through that point. When I first saw the falls, it was breathtaking scenery – an elegant, gorgeous and stunning view. It also had a big area to swim in the crystal clear hole and there was also a sliding area for everyone to slide themselves to the swimming hole. I did that once, which I really enjoyed, and my friend helped me to take photos. After long day tour, I think this tour was worth doing because I had great times with my friend, and also saw a wild creatures and many beautiful places including waterfalls.
Papassorn