On Friday 22nd November 2019, this was the first time since I have been living in Cairns that I had a chance to visit Cairns Aquarium. When I arrived there, the aquarium staff greeted me and asked me to put a name tag on.  After that they also provided various types of welcome drinks such as sparkling wine, white wine, beer and juice. I was waiting in the entrance for a few minutes and then they started escorting us inside. I felt very excited wondering what were animals were waiting for me inside.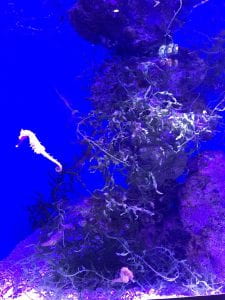 In the first part, there were various types of freshwater fish, some animals that staying in the rainforest like snakes, frogs, spiders, turtles, crocodiles and the most dangerous bird in the world- the cassowary. While I was walking, looking around and taking photos, the staff was also explaining about the animals window by window. Then I walked through to reach the second part, and that was where the reef creatures were.  I saw lots of colourful fish, sting rays, sharks, and moray eels. However, the part that I was interested the most was the venomous sea creatures because I saw heaps of strange fish like the Reef Stone Fish- the most toxic fish in the world that looked exactly like a stone; and the Dogface Pufferfish that can inflate their bodies by swallowing air or water. They swam around in front of me and looked very active. Besides this, I saw Crown of Thorns Starfish which is one of the largest sea stars in the world with a distinctive thorny upper surface of toxic spines that resembles a crown; the Honeycomb Moray eel that usually has a pale yellowish background and numerous black spots; and the Olive Sea Snake which is a highly venomous snake. I enjoyed watching them and I spent a few minutes staying there and watching them.
From the start until I reached the underwater tunnel where the last session of that night was, it took me around an hour. I thought it was very interesting because in this place, I felt it was a very good combination of where the rainforest meets the reef and it allowed me to see many kinds of animals that are living in this area. At the underwater tunnel, they provided everyone delicious food and drinks and also live music. I had my dinner while watching sharks, string rays, and fish swimming around, listening to music. I had a very good time there and I think I will recommend the Cairns Aquarium to my friends if they want to visit a nice place in Cairns.
Papassorn, CCEB Travel