Cairns, what a beautiful city but I hadn't heard about Cairns before I arrived here. Cairns was the first city visited in Australia. I remember my flight landed at the Cairns airport at 5AM. In my imagination, the airport must have a lot of cars or busy traffic but it didn't. I felt surprised about that. Then, I moved to my share house and checked in. My share house's name is ''Kangarooms'', the name is similar to Kangaroo. It's quite new and clean and I love to live there. I have lived there since I arrived here. My share house manager ''Melanie'' is really nice and helped me a lot. She introduced me to Cairns city and suggested places I could visit or where I could buy reasonable and good quality food.
I remember my first teacher was Sissa. She was an active and funny teacher. I like her a lot. She always gave more and more energy to us. I also made a lot of friends in the school. There were from different countries: Japan, Korea, Colombia, Brazil, Chile, Switzerland and Thailand. It's like a little United Nations in the school. We usually ate lunch together and talked about how we studied and what happens in our life. Sometimes we shared our food with each other so we could eat different country's food. After school, we had some activities, for example, we played basketball, had a BBQ and went to the bar to drink a couple of beers. Sometimes, we held a party, like Okonomiyaki party, Takoyaki party or a dumpling party. I remember I did many things that I first did in Australia like to drive a car and ride a scooter on the left side of the road, go fishing by boat but I hadn't danced on the tables in the Woolshed. Maybe I will try to do that in the future.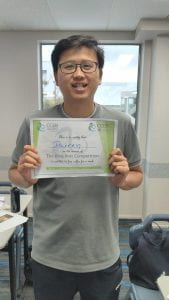 In the end, I really appreciate all my teachers and friends. Thank you Justyna, you are my lovely teacher, you always joke with me so I knew you still like me. Thanks to Tim, Roger, Astrid, Nina who helped me a lot. Thank you my classmates, Misa and Chihiro who were my guides when I visited Osaka in Japan. I had a really great time. Thank you Minako for teaching me Japanese comedy and the Japanese language. It's really interesting. Thank you Ayano, Ayaka, Chiyumi, Ryo, Satomi, Natsumi and Misa. We had eaten lunch together. It was a really good time. Thank you Bella for helping me a lot. Thank you all my Intermediate-A classmates. You are the best classmates that I have never had.
Thank you all my lovely friends. I will never forget my CCEB life.
Darren, Intermediate Class