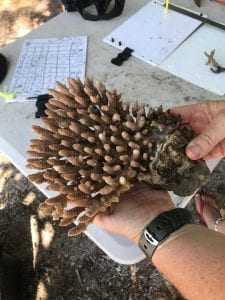 Reef Restoration Foundation is a non-profit organisation dedicated to the reproduction of corals for the reforestation of the seabed affected by coral bleaching.
This foundation emerged as a result of the most important bleaching episodes that occurred in the history of The Great Barrier Reef in 2016 and 2017, which were also worsened by a severe cyclone affecting large areas. These phenomena caused almost two thirds of The Great Barrier Reef to be destroyed.
The foundation is responsible for collecting coral fragments that survived and begin to reproduce them. This process is similar to taking plant stems to grow new ones from them. The first generation of corals exceeded the expectations of the foundation, since in just eight months they grew more than twice their original size and were planted on The Great Barrier Reef.
What is coral bleaching?
Coral bleaching is due to stress induced by the expulsion or death of the protozoan symbiotic (Zooxanthellae) or by the loss of protozoan pigmentation. Corals that form large system structures in tropical seas depend on the symbiotic relationship with this protozoan that gives the coral its coloration. Under stress, the coral expels its zooxanthellae, which gives it a clear or completely white tone, thus the term "bleaching".
Causes to expel the protozoan:
– Even a slight increase or decrease in water temperature.
– Flowering of algae harmful to coral.
– Increase of solar radiation.
– Changes in water chemistry (in particular acidification).
– Starvation caused by the decline in zooplankton.
– Increase in sedimentation
– Pathogenic infections
– Changes in salinity
– Wind
– Air exposure at low tide
Procedures
Currently, the coral farm is located on Fitzroy Island, and that is where coral trees are found and where coral pieces are collected to be planted. Remember that coral is not only destroyed by bleaching but also by external factors such as tourist overexposure.
Every day thousands of people visit The Great Barrier Reef and the islands that make it up, including Fitzroy. Unfortunately, not everyone is equally careful and there are many broken pieces of healthy corals that can be used to restore the reef.
The first step:
Recover fragments of healthy coral by either cutting them from the mother colonies or collecting healthy fragments from the sea bottom.
The second step:
Sort, take samples and eliminate dead parts of the selected stems.
The third step:
Replanting corals can be done in two different ways. Plant large and healthy fragments directly on the sea bottom, in depopulated areas, with epoxy glue. Smaller fragments are hung on coral trees and after 6-12 months, planted in areas in need of recovery.
In addition, there is a maintenance work and control of coral trees, since they are affected by the growth of algae and must be cleaned affected to prevent them from suffocating which could cause their death.
We can also select some samples and take photos of them over time to control their growth. All this work is done by the volunteers of the foundation and analyzed by its marine biologists of the same and JCU scientists.
Motivation
It is certainly a very nice project and I feel very proud to participate and contribute with my grain of sand to help sustain the planet. Although the conditions for entering in the project as a coral farm volunteer are complicated, there are many different ways to collaborate with the foundation.
If you are interested in collaborating with the foundation or you want further info, I include the following link to the foundation's website: https://reefrestorationfoundation.org/
Armiche, Upper-Intermediate A