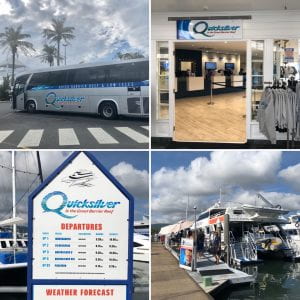 Before my trip with Poseidon, I had been to the reef many times, all of them out of Cairns though. That's why going to the Great Barrier Reef from Port Douglas added to my excitement. The company offers pick-up and drop-off so they picked me up from the Northern Beaches on the way to Port Douglas. Driving down the Great Barrier Reef was an experience in itself – it is such a picturesque drive! The coach was air-conditioned and super comfy with a lot of legroom. After we arrived in Port, both the check-in at the company's office and boarding the boat went really smoothly. Also, the weather was on my side: heaps of sunshine and almost no wind at all! Yay!
Once on board, I was taken good care of. The complimentary tea, coffee, muffins and focaccia were already waiting for us. I'm not going to share with you how many pieces of focaccia I had, ha ha!
I'm not really into scuba diving so I was asked to join a briefing for snorkellers, which I did with a cup of delicious complimentary coffee in my hand. The staff were very attentive to all our needs and very patient explaining every single detail regarding the use of snorkelling equipment. They even offered prescription masks at no extra cost! The passengers got stinger suits to wear in order to protect themselves against jellyfish, which was more of a precaution really but it needs to be followed at this time of year.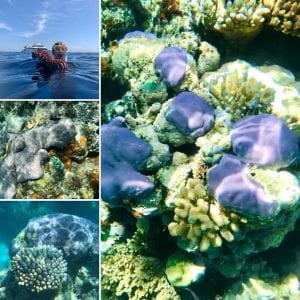 We went snorkelling at three different spots on the Agincourt Ribbon Reefs and you can check for yourselves how beautiful the coral is over there! What I saw and recorded with my iPhone 8 Plus was absolutely stunning and I'm pleased to say the reef is doing really well off Port Douglas!
While snorkelling, I hovered over the vibrant coral gardens of beautiful colour. The visibility was awesome that day so my photos are very clear. At some point I joined a guided snorkelling tour with a marine biologist Adam who showed us a sea cucumber which I got to hold in my hands. What an experience! We had lunch in between the snorkelling sites, which was really well-timed as we were running out of energy splashing around in the Coral Sea 😉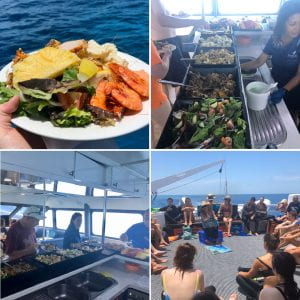 Lunch was delivered in the form of a tropical buffet, which I really enjoyed. A great variety of food was served but the prawns were simply the best! There is something special about buffet lunches at the reef; they just taste sooooooo good 😉 The staff were very friendly and really helpful. During lunch, we listened to one of them give us a little talk about marine life, which I found very interesting.
I could see the divers had a fantastic time, too. I heard a couple of them enthusiastically exchanging their impressions of the dives. I'm sure they saw more than I did as they were able to explore the depths of the ocean.
Below is the link to the exact itinerary of my day: https://www.poseidon-cruises.com.au/yourday/in case you wish to have a better idea of the times of departure, arrival, transfers, etc.
The whole experience was amazing and I definitely recommend taking the trip! Massive thanks to the whole crew for having me 🙂
Justyna, CCEB Teacher and Blogger