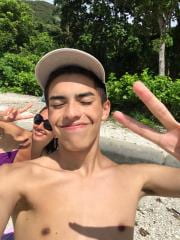 Almost three months ago my nephew, Martin Ortega, came to Cairns to visit me and study English at CCEB.
Like all young people, he is very advanced in the use of technological devices and he decided to participate in the CCEB anniversary video competition. Fortunately, he won it! The prize was a double ticket to Fitzroy Island.
I had always wanted to go to the island, but I had not had the opportunity to do it. So this occasion was perfect for me, thanks to my nephew who invited me.
As soon as we reached Fitzroy Island, we could see the crystal clear water, an imposing green forest and a beach full of beautiful corals.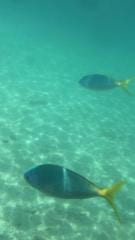 The first thing we did was go snorkelling. We saw fishes and manta rays, then we went on a hike up the hill and reached the top. We enjoyed the great view, which was beautiful even though the hike was tiring. On the way we saw a giant spider web in which there was a huge spider.  Although we were very scared, we recorded it and took many pictures.
Finally, we got back to the beach and we swam in that quiet and beautiful place.
We are grateful to CCEB for giving us the possibility to participate in the trip and be able to have amazing experiences in Cairns.
Carolina, Intermediate Class