I think cooking is one of the most beautiful things in life. "What is cooking for me?" has changed many times.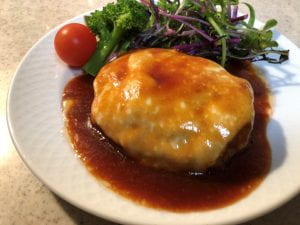 It was my first time to cook when I was a junior high school student. I helped my mother cook for my family. Since then I often assisted her with cooking when I was in the house in the evening. But I was just a helper and I didn't cook anything only by myself. So, at that time, cooking was just a "housework" for me.
When I was a university student, cooking became a "hobby". One night I cooked a dinner for my family just by myself. The first dish I cooked was the hamburger steak with cheese. (See the photo above: I cooked this one recently, not for the first time)
In addition, I cooked rice and miso-soup. It took a lot of time to cook all the dishes for dinner, but I was very happy when I heard "It's delicious." and "Thank you" from my family. I realized how beautiful cooking is.
Today, I often cook dinners for my family. Cooking has become something like a "habit" now. I believe the most important thing in cooking is the love. If we cook dishes thinking about the people who will eat those, the dishes can be more delicious because we are keen to cook more thoughtfully and wholeheartedly. And I have cooked in other countries when I went to Perth last year and now in Cairns. I cooked Japanese style dinners and made my host families happy. I realized cooking can gather people from all over the world and make them happier. I thought cooking is like the universal language. Regardless of races, genders and cultures, we can experience happiness together when we are eating delicious dishes. That's why I usually try to cook traditional dishes of many countries like these below. (These are also my actual photos)
In the future, I want to be a chef and have my own restaurant. I don't really care if the restaurant will make a lot of money. I hope my cooking will make lots of people happy. It means cooking is also a "dream" for me.
Kotaro Kawamoto, Intermediate A